People
Program Administration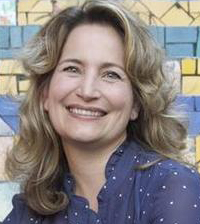 Erika Robb Larkins
Director
Office: AL-626
Phone: (619) 594-5028
Email: [email protected]
Dr. Erika Robb Larkins is Professor of Anthropology, Behner Stiefel Chair of Brazilian Studies, and Director of the Behner Stiefel Center for Brazilian Studies at San Diego State University. She received her doctorate in Cultural Anthropology from the University of Wisconsin, Madison and also holds a M.A. in Latin American Studies from the University of Chicago. Larkins' research and teaching focuses on violence and inequality in urban settings. Her first book, The Spectacular Favela: Violence in Modern Brazil (U California Press 2015), explores the political economy of spectacular violence in one of Rio's most famous favelas. Her second book, The Sensation of Security: Private Guards and the Social Order in Brazil, is forthcoming from Cornell University Press. She has also published on issues of race, gender, and politics in Brazil, with recent articles appearing in American Ethnologist, City and Society, and the Journal for Latin American and Caribbean Anthropology, and in public outlets including El País and Estadão (O Estado de São Paulo).
Also a writer of fiction, Larkins is a Pushcart nominee, and her 2021 short story, "Working for Nico" won an award from the Society for Humanistic Anthropology in the creative ethnographic prose category.
Larkins' is currently working on a new National Science Foundation funded research project on the intersection of extreme heat, environmental racism, and inequality in Rio de Janeiro. She was recently awarded a National Endowment for the Humanities grant to co-teach the second iteration of the NEH Summer Institute, "Race, Modernity and Urban Spaces in Brazil" for higher education faculty in 2022.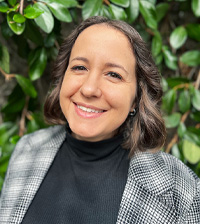 Kristal Bivona
Associate Director
Office: AL-632
Phone: (619) 594-4771
Email: [email protected]

Kristal Bivona is the associate director of the Behner Stiefel Center for Brazilian Studies and an Assistant Professor in Classics and Humanities. She holds a Ph.D. in Hispanic Languages and Literatures and a masters in Portuguese from UCLA and a Masters in Comparative Literature from Dartmouth College. She completed her undergraduate studies at SDSU as a community college transfer student. Her research examines the public impact of cultural production in Latin America and exposes the ways in which art, cinema, and literature engage with the political sphere and the crucial role of the humanities in fostering sociopolitical change. Her book project, Democracy out of Focus: Political Memory and Post-Dictatorship Brazilian Cinema connects the fields of film studies, cultural studies, and democracy studies to illuminate the relationship between audiovisual production, cultural memory, and processes of re-democratization in Brazil. She has published and forthcoming work on Latin American cinema and art in Luso-Brazilian Review, Latin American and Latinx Visual Culture, and Studies in Spanish and Latin American Cinema.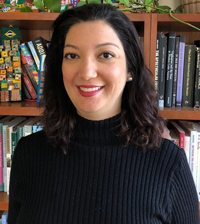 Flavia Soares
Flavia Soares is the Center Coordinator. She graduated with an MBA degree in Business & Management Systems from Candido Mendes University, Rio de Janeiro/Brazil, and also has a BS in Business Administration. With over 10 years of management consulting experience, most of them leading management improvement projects at Petrobras S/A, she seeks to use her background as well as her cultural and language skills to promote collaboration and support the Center for Brazilian Studies in all its areas of expertise.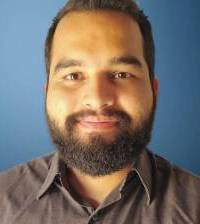 Rodrigo Moreira
Brazil-Sustainability Fellow, Fall 2023
Phone: (619) 594-4771
Email: [email protected]
Dr. Rodrigo Moreira is a spatial data scientist who transforms multisensor (optical and radar) remote sensing products and census data into spatial information to answer complex environmental problems related to climate science, forest fragmentation, water resources and public health. Adjunct Professor at the Department of Environmental Engineering at the Federal University of Rondônia, promoting quality public education and popularization of science. Coordinator of the Laboratory of Geomatics and Statistics (LABGET - UNIR) and leader of the Environmental Engineering Research Group (GPEA - UNIR). Permanent Professor at the Environmental Sciences Graduate Program - UNIR. Postdoctoral research in progress at San Diego State University - USA, with a fellowship from the Behner-Stiefel Center of Brazilian Studies. Post-Doctorate in Natural Resources - UFMS (2020). PhD in Environmental Engineering Sciences - EESC/USP (2017) with a sandwich period at the University of Michigan - USA between 2016 and 2017. Master in Agricultural Sciences (2014), Environmental Sanitarian (2011) and Environmental Manager (2013) by IFGoiano - Campus Rio Verde.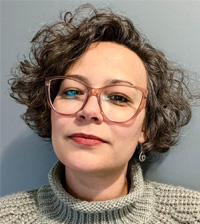 Camila Pierobon
Research Fellow
Phone: (619) 594-4771
Email: [email protected]
Dr. Camila Pierobon is Research Fellow of the Behner Stiefel Center for Brazilian Studies. She holds a Ph.D. in Social Science from the Rio de Janeiro State University. Her research deals with the everyday problems that low-income families face in the city of Rio de Janeiro, focusing on making-home in relation to access to potable water and sewage. Dr. Pierobon is currently working to build the "Brazilian Urban Waters" with the objective of understanding how the different waters act in the production of urban space. The network operates on two work fronts. The first one focuses on ethnographic research that seeks to understand the uses of different waters in the urban space (rivers, seas, rains, floods, lakes, ponds and pools) in relation to scarcity, excess, toxicity, environmental and climate change. The second front analyzes the federal, state, and municipal regulatory frameworks related to water and sewage, and surveys quantitatively and qualitatively the formal water and sewage distribution network in metropolitan regions.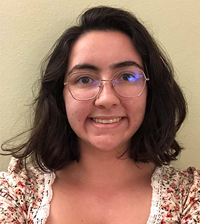 Isabele de Lima
Isabele is a graduate student in the Sociology Department, with a focus on Brazilian studies, race/ethnic studies and gender studies. She was born and raised in Brazil, but pursued higher education in the United States, graduating from UC San Diego with a BA in Sociology and Theatre. She is excited to stay connected with the Brazilian community through her work at Center as a graduate student assistant.


Victoria is an undergraduate sociology major whose subjects of interest lie in power, wealth, inequality, and labor history. She was born in Canada and lived in Brazil for five years as a child before moving to San Diego with her family. She spends her free time playing bass guitar, reading novels, and spending time with her family.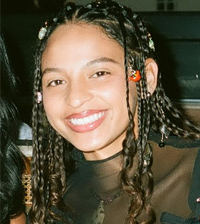 Trinity Magdalena-Weary
Assistant/Student
Office: AL-626
Trinity is an undergraduate student studying Environmental Engineering. She works in the Water Innovation and Research Lab at San Diego State University, where she works on various different projects concerned with water quality. In the summer of 2023 she studied microplastic concentrations at the Federal University of Minas Gerais in Belo Horizonte, Brazil, granting her exposure to the rich heritage and culture of the country. She hopes to stay connected with the Brazilian community as a student assistant at the Center.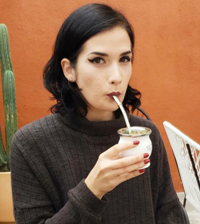 Amethyst Sanchez
As a graduate student in the Anthropology Department, Amethyst's research interests coincide with her degrees in both Anthropology and Sociology, with particular emphasis on activism, feminism, structural inequality, and historical archaeology. Though she is Argentine and not Brazilian, Amethyst is happy to be engaging with her Latin American heritage through working as a research assistant and staff member at the Center.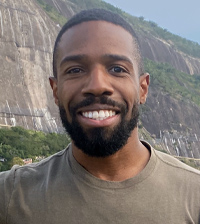 Huey Younger
Assistant/Student
Office: AL-626
Huey is an undergraduate student in the Brazilian Studies program, with a specialization in the history, politics and economics of Brazil. He was born and raised in Vicksburg, Mississippi, and he worked in mass communications and public affairs in the U.S. Navy from 2013-2022. He chose to pursue higher education at SDSU as the university's first Brazilian Studies major. He has been fascinated with Brazilian culture since deploying to Brazil in 2014 and has traveled there frequently since then. He is excited to engage with the Brazilian community while working at the Center as a student assistant. His nickname in capoeira is Homem de Ferro.
Associated Faculty & Staff
Ryan Abman
Assistant Professor
Economics
Email: [email protected]




Stuart Aitken
Professor
Geography
Email: [email protected]




Cristina Alfaro
Professor
Dual Language and English Learner Education
Email: [email protected]




Adisa Alkebulan
Associate Professor and Chair
Africana Studies
Email: [email protected]




Thaís da C. L. Alves
Professor and Chair
Construction Engineering and Management
Email: [email protected]




Cristian Aquino-Sterling
Associate Professor
School of Teacher Education (STE) and Associate Dean for Diversity and International Affairs, College of Education
Email: [email protected]


Jessica Baham
International Programs Coordinator
College of Arts and Letters
Email: [email protected]




Mark Ballam
Managing Director
CIBER, College of Business
Email: [email protected]




Rebecca Bartel
Assistant Director
Center for Latin American Studies
Email: [email protected]




Pablo Ben
Associate Professor
History
Email: [email protected]




Trent Biggs
Professor
Geography
Email: [email protected]




Fernando J. Bosco
Professor and Chair
Geography
Email: [email protected]




Amanda Bryant
Assistant Director
CIBER
Email: [email protected]




Grace Cheng
Director
Center for Human Rights
Email: [email protected]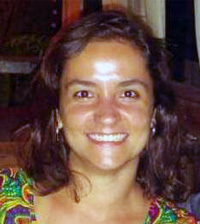 Manuela Cordeiro
Lecturer
Brazilian Studies
Email: [email protected]

Cássia De Abreu
Lecturer
Portuguese
Email: [email protected]




Kevin Delgado
Associate Professor
Music
Email: [email protected]




Fernando De Sales
Associate Professor
Geography
Email: [email protected]




Robert Edwards
Professor
Biology & Computer Science
Email: [email protected]




Salvador Espinosa
Associate Professor
Public Administration
Email: [email protected]




Daniela Gomes
Assistant Professor
Africana Studies
Email: [email protected]




Gabriel Gonzalez
Assistant Professor
Marketing
Email: [email protected]
Allen Gontz
Professor and Chair
Geology
Email: [email protected]

Lawrence Herzog
Professor
City Planning
Email: [email protected]




José Carmelo Interlando
Professor
Mathematics
Email: [email protected]




Zoe Jarocki
Undergraduate Instruction Librarian
Library & Information Access
Email: [email protected]




Susan Kiene
Professor
School of Public Health
Email: [email protected]




Matthew Lauer
Professor
Anthropology and Sustainability
Email: [email protected]




Arielle Levin
Professor
Geography
Email: [email protected]




Enrico Marcelli
Associate Professor
Sociology
Email: [email protected]




Madhavi McCall
Associate Vice President
Office of Curriculum, Assessment, and Accreditation
Email: [email protected]




Anta Merritt
Assistant Professor
Africana Studies
Email: [email protected]




Nadezda Novakovic
Program Specialist
LARC
Email: [email protected]




Thomas Novotny
Professor
School of Public Health
Email: [email protected]




Ramona Pérez
Director
Center for Latin American Studies
Email: [email protected]




John Putman
Associate Dean
Collge of Arts and Letters
Email: [email protected]




Amy Schmitz Weiss
Professor
School of Journalism and Media Studies
Email: [email protected]




Gillian Sneed
Assistant Professor
School of Art + Design
Email: [email protected]




Charles Toombs
Professor
Africana Studies
Email: [email protected]




Milton Torikachvili
Professor
Physics
Email: [email protected]




Patricia van Damme
Advisor
College of Business
Email: [email protected]





Ricardo Vasconcelos
Professor
Portuguese
Email: [email protected]




Matthew Verbyla
Assistant Professor
Environmental Engineering
[email protected]




María Luisa Zúñiga
Associate Professor
School of Social Work
Email: [email protected]



Intercollegiate Advisory Board Members
Ryan Abman
Cássia de Abreu
Stuart Aitken
Thaís da C. L. Alves
Cristian Aquino-Sterling
Jessica Baham


Mark Ballam
Rebecca Bartel
Trent Biggs
Grace Cheng
Luciano Cruz
Thiago de Lucena Coelho
Fernando De Sales
Kevin Delgado
Salvador Espinosa
Daniela Gomes
Gabriel Gonzalez
Pam Lach



Paulo Lima
Gillian Sneed
Milton Torikachvili
Ricardo Vasconcelos
Matt Verbela
María Luisa Zúñiga
Visiting Scholars